The non-profit organization Southern New Mexico Project developed this project as per the one carried out by the city of Albuquerque, but instead of calling homeless people to work on a day job, we decided to call unemployed persons. They were paid the state minimum wage of $7.50/h, food was given at noon, and paid cash at the end of the day job.
The program was announced throughout the city districts with flyers and accepted women, students, and men over the age of 18.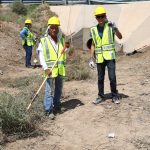 It started on July 28, 2017 and finished on October 27, 2017. The area that was recommended to start by the Public Works Superintendent was Anapra, by the levee close to the river/ El Paso bridge and its surroundings. Days later after starting we had to come back and clean again because more debris and trash was thrown in the area.  Police Chief Mr. Guerra made a report on that incident. Between this start and the return to the area, the McNutt Road was cleaned of weeds and litter up to the entrance of Cristo Rey mountain. All work done extended around 10 feet to 15 feet, in average, towards the sides and in some cases more. The McNutt Road was worded up to the crossing with Sunland Park Blvd. Also, part of Racetrack Road was cleaned but we had to stop due to construction started on it.
At different times, the city sent us a 20 ft.
 long gooseneck trailer which made 5 trips of trash with an estimated weight of 2.5 tons on each load.
Also, the city sent us the help of the animal control employee to spray and control the rodents, ants and wasps nests many times.
Along the period of the pilot, 8 peoples left because they founded permanent jobs. To all, the programs of the organization were offered, which was the second goal of the pilot.
By the nature of the trash, the amount of it, the fast growing weeds, the tires, and mattresses we concluded that an education program towards the community and a good maintenance initiative would keep Sunland Park important Roads in good shape.